Apps
Published on January 10th, 2019 | by Guest
0
7 Best Audiobook Apps for iPhone
Technology has evolved so much in the past years that consuming books no longer requires the act of reading. Now, regardless of your location, you can listen to any book you want from the comfort of your phone and a pair of headphones.
The phone apps industry has evolved too and there are a lot of useful tools that offer this service, an aspect that made a lot of people seek the best audiobook apps. In today's post, we're presenting our top 7 best audiobook apps for iPhone users.
Apple Books
If you're an Apple user, then you already have Apple Books installed. Nevertheless, the audiobook version is not yet available in all countries. The books are being read by famous authors, actors, or celebrities which make the listening process even better.
A great advantage that Apple book offers is that you can shop directly on the app, which makes the user experience simpler and more pleasant. As well, the app does the job for you.
For example, if you listen to an audiobook, you will instantly be able to find it later in the "Read Now" section. For some iPhone users, Apple Books is just enough to satisfy their reading needs.
Audible
Powered by Amazon, Audible is one of the largest if not the largest and most advanced audiobook app in the entire world, and here's the reason. On the app, you can find the largest number of audiobooks and a big variety of audio-features.
This means that you can not only listen to famous books but also to audio shows and short narratives narrated by your favorite celebrity. How cool is that, right? Listening to your favorite book and your favorite actor.
An ingenious and out of the box idea, Audible gives you a choice concerning the purchasing process. You can either purchase one book at a time, in our case an audiobook at a time, or you can get a monthly subscription ($14,95).
Of course, the app is free and, wait for it, free of annoying ads. Unlike other apps, I won't call names, you can listen to your audiobooks even if you're offline. The Audible player offers a qualitative sound experience and it allows you to adjust the narrating speed according to your preferences.
Google Play Books
If you're an active Google user, then you'll probably go with Google Play Books app. On this app, you can do more than listening to a book from your favorite author. You can listen to eBooks, comic books, and textbooks. The app covers all types of digital content.
Google Play Books has a pretty large catalog. It's not as massive as Audible, but neither as small as iBook. Nevertheless, the purchasing process is as simple as it can be without having to pay a monthly subscription.
It really doesn't matter if you have used the app prior on Android, as the syncing process is linked to your Gmail and not to the phone. One less thing to worry about. Moreover, you can even listen to audiobooks from the comfort of your own car in case you use CarPlay.
Libby
Libby took things to a whole other level. They asked the right questions and came up with the right answers. One question was "why buy an audiobook when you can borrow it?"
Libby took the liberty to manage the audiobooks you borrow and not from a single library but from any library you're subscribed to. So, if you have subscriptions to more libraries, you'll be able to listen to a lot of eBooks.
Just a few taps on your phone and, voila, you can listen to the book you've just borrowed. They also offer you the possibility to choose between downloading the book and listening to it online.
Of course, you may have to wait until you get to listen to an audiobook that was just released because, after all, we're talking about a library. On this app, you can find a large number of book titles from bestsellers to newly released books.
Audiobooks.com
If you're looking for an app that offers both free and paid audiobooks, then Audiobooks.com is what you're looking for. They provide over one hundred thousand audiobooks from which as much as 8 thousand come free. Anyway, the number is constantly increasing as they're adding new audiobooks weekly.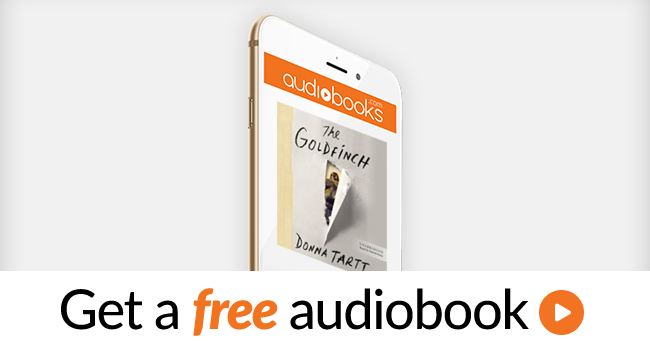 Audiobooks.com is a subscription-based service which offers the first book for free and a one-month trial period. If you decide to stick with them, the monthly fee will be as much as $14.95 per month. While listening to the books, you can adjust the narration speed and even set a timer in case you fall asleep.
Scribd
Scribd is a subscription-based platform which allows you to test and familiarize yourself with it for 30 days. When the trial month ends, the subscription starts at $8.99, which is the cheapest so far. Once you're a subscriber, you can enjoy unlimited access to all sort of digital content from audiobooks and eBooks to magazines and newspapers.
The not-so-great part about them might be that even though they claim to offer you unlimited access to audiobooks, sometimes they might surprise you with a less pleasant message. Every now and then, they'll notify you that your access to specific content of audiobooks for a period not longer than one month will be limited.
Anyway, it rarely happens, and their service is quite unique as it's the only app that provides access to newspapers and magazines, and they have no problem with the format, so you can delve into everything.
Amazon Kindle
Amazon Kindle is more of a book app than an audiobook app and it's placed in the top 3 for a long time now. This app doesn't really sell the audio version of the book like the other apps do, but it comes with an alternative solution to listen to the book. I'd say that it's an app for flexible book lovers who like to switch from reading to listening.
Here's how it works: first, you must buy the kindle version of the book and only later you can add the audio version in exchange for a small part of the price that you've already paid for the book.
What I like the most about this app is that it syncs the last-read location, so when you'll use the app from another device or switch from reading to listening it will start from the point you left it.
Amazon has already occupied the #1 spot in the eCommerce industry, and they won't shy away from trying to seize the audiobook industry too. Of course, only time will tell whether that'll happen or not. Until then, their service still stands out and is worth considering.
Conclusion
As I said, there are a lot of audiobooks apps to choose from. All the above-mentioned apps are great, and the choice is only yours. You can even try out all of them and see which one fits your style best. You can hurry now and download one of this 7 apps and listen to your favorite book while you're taking a hot bath after a hard day at work.
Bio
Cathy Baylis is a hard-working young woman who loves to travel all over the world to discover new cultures. She's a passionate writer and she works for an assignment writing company that offers her the opportunity to travel as she works from wherever place she chooses.