Hardware
Published on September 2nd, 2019 | by Sudhanshu Sorout
0
Intel launches Comet Lake-U and Comet Lake-Y- How do they compare with Ice Lake? 
Back in May, Intel had officially unveiled the new 10 nm process based Ice Lake mobile parts which would form its 10th generation of CPUs, and in August, it has now unveiled the Comet Lake parts which will flesh out Intel's 10th Gen mobile lineup. Comet Lake is the fourth iteration of Intel's Skylake architecture, which had it's debut in 2015, on a 14nm process. The low-power processors will share the 10th Generation branding with the Ice Lake processors and feature many of the same hardware improvements as well. The Comet Lake processors will be launched in the same U and Y families that consumers are familiar with. Let's have a quick look at the SKUs that Intel is launching.  
The Comet Lake SKUs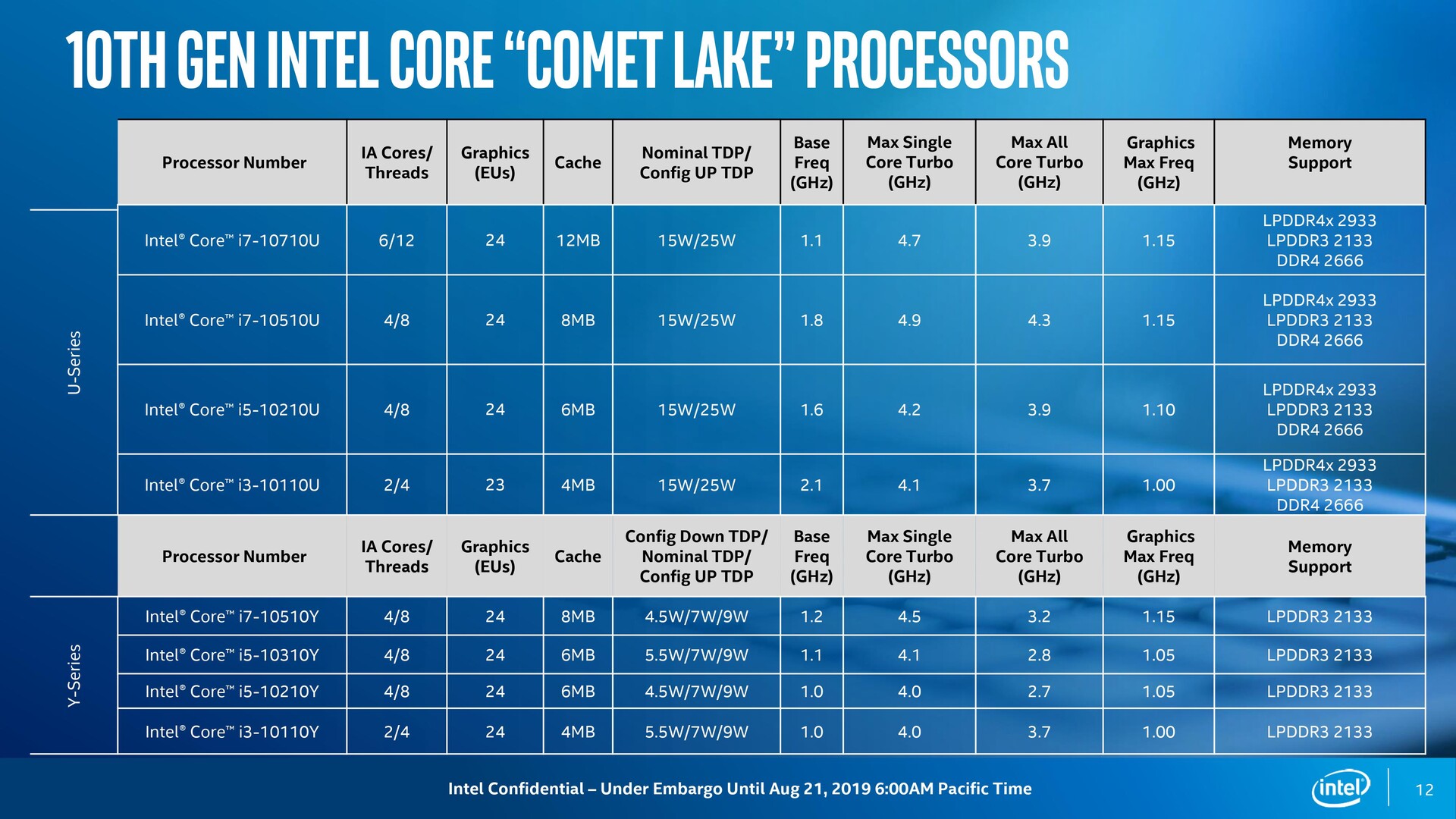 The Comet Lake U Series processors  
There are going to be 4 Comet Lake U SKUs, starting from the 2C/4T Core i3-10110U, to the top-end i7-10710U which will feature 6 cores and 12 threads. That's right, with Comet Lake, Intel is shipping the first-ever Hexacore processor in a low power package. It's also the only Comet Lake processor with this configuration. Compared to Whiskey lake, the previous generation of series U processors, there are modest clock improvements. All 4 parts come with a TDP of 15 W, but there is a 25 W cTDP up mode as well for higher performance if required.  
Aside from clocks, there's a much-needed improvement in the memory controller in tow- Intel has finally backported a new memory controller into Comet Lake-U enabling it to support the LPDDR4X standard. This would translate into laptops with faster, lower power, and higher capacity memories. This is a very good move on Intel's part, if much belated. LPDDR3 and DDR4 are also supported. Even though the new memory standard is supported, the support doesn't quite match what we see on the Ice Lake parts, which is something we will discuss further in the article.  
For graphics, Comet Lake-U features the old faithful Gen 9.5 graphics block. The Core i3 rocks an IGP with 23 EUs while the other SKUs come with 24 EUs. The clock speeds range between 1.0- 1.15 GHz depending on the SKU.  
The Comet Lake Y series processors  
Like the U series, the Y series features 4 new processors and the biggest upgrade is an increase in cores compared to Amber Lake – Intel's previous Y series processors. It's a doubling to be exact, and a harbinger of vastly better multithreading performance in very low power devices such as convertibles and 2-in-1s. Just like Comet Lake-U, we see modest increases in clock speed here over Amber Lake. Unfortunately, the Y series processors do not feature the new memory controller integrated in the new U series processors, so they are still limited to the old LPDDR3 standard. We would have liked to see an improvement in this regard but clearly, Intel would rather phase out Skylake in the Ultra low power segment with 10 nm parts than retrofit it this late in Skylake's life.  
The TDP compared to Amber Lake has gone up a bit- from 5 to 7 W- surely because of the added cores and the clock speed. OEMs have the freedom to cTDP up to 9 W, or cTDP down to 4.5/5.5 W. It would be interesting to see what designs we see manifest.  
For graphics, Comet Lake-Y features a 24 EU Gen 9.5 GPU, with clock speeds ranging from 1.0 – 1.15 GHz- an increase of a 100 MHz over Amber Lake. A very modest increase indeed.  
Overall Platform Improvements  
New PCH: Wi-Fi 6 Support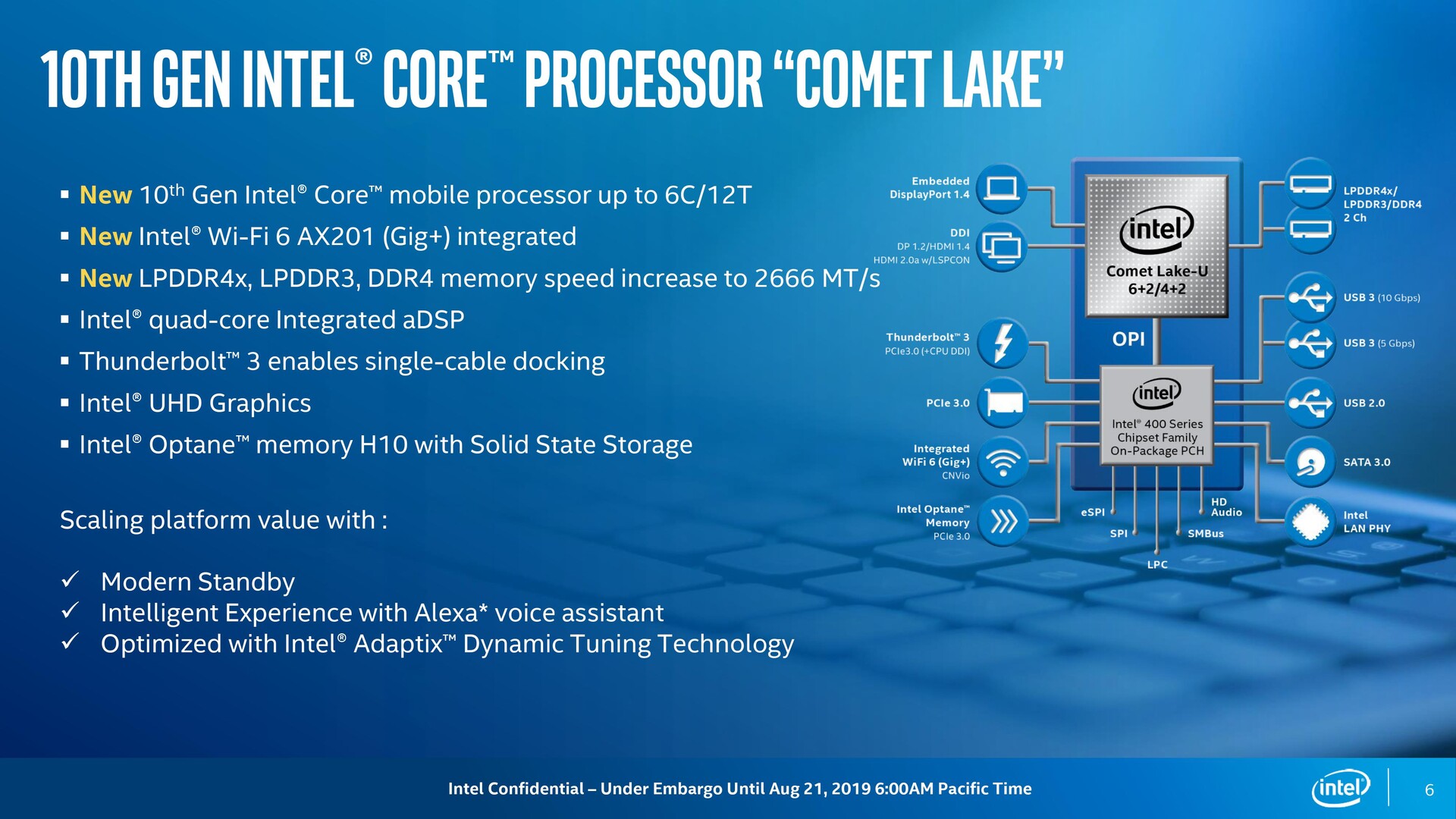 The Comet Lake-U features Intel's newest PCH family, with new features to bring it to parity with Ice Lake. That involves Wi-Fi 6 (802.11ax) support, through the company's CNVi program, wherein the digital logic required for the Wi-Fi radio is placed on the PCH and paired with a matching external RF module by Intel- but only if OEM's wish to. The matching module can only be secured from Intel, so if OEMs wish to integrate a third-party solution, they will not work with the digital logic on the PCH and thus a complete Wi-Fi 6 radio will have to be bought. Comet Lake-Y processors do not feature the new PCH however and therefore, if OEMs wish to offer Wi-Fi 6 functionality with them, they will have to opt for a complete external solution.  
Adaptix Dynamic Power Tuning 
Furthermore, both Comet Lake-U and Y series processors feature Intel's Adaptix dynamic power tuning technology, which was introduced in Ice Lake. Purportedly, Adaptix is supposed to maximize performance by intelligently adjusting the PL1 TDP over time- with the help of Machine learning wizardry.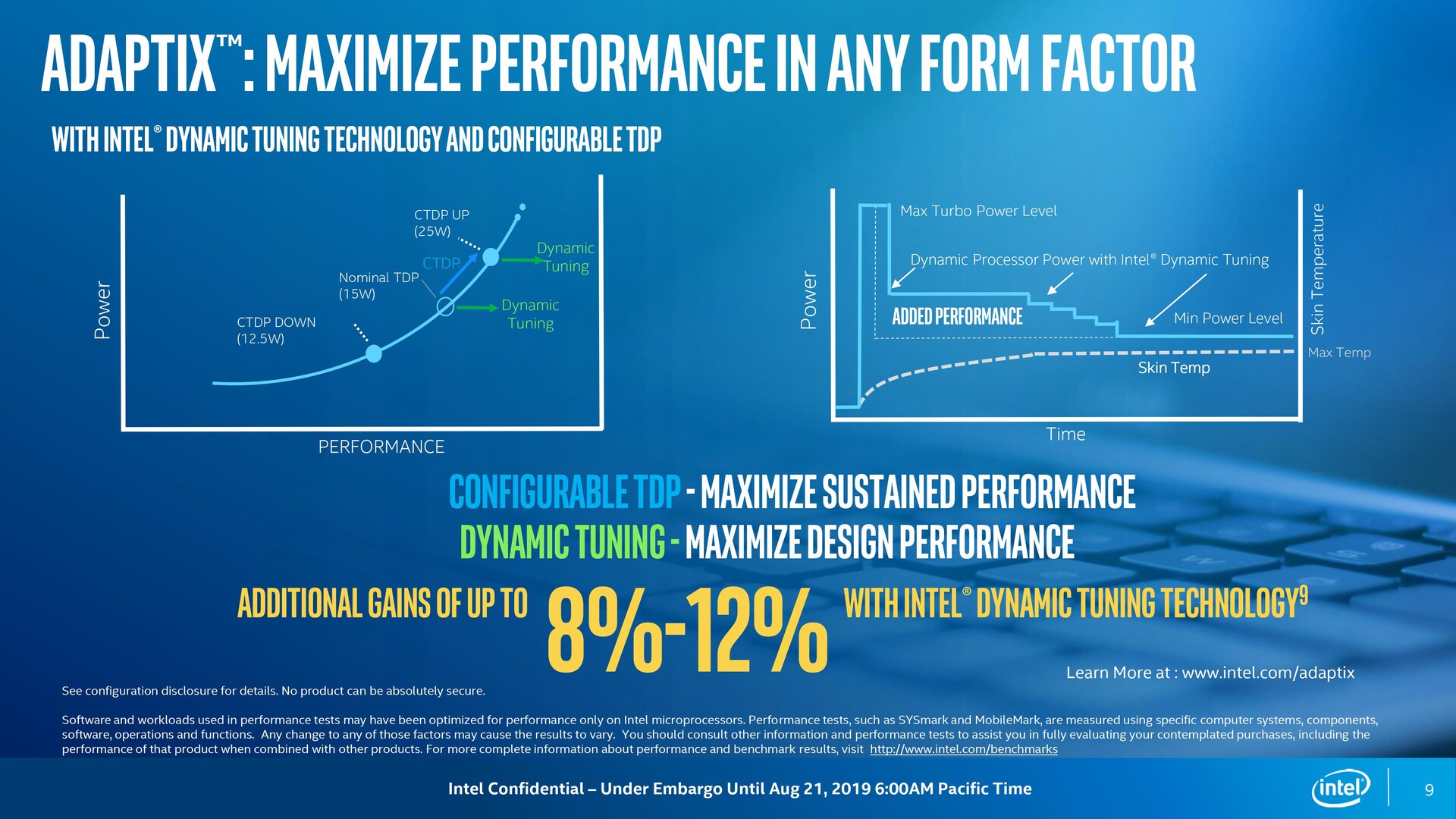 Intel claims that Adaptix can lead to performance improvements in the range of 8-12%. This feature is optional for OEMs, so it's up to them to enable it. Only real-world tests will determine how effective Adaptix can be.  
Thunderbolt 3 support?  
Intel's marketing material mentions Thunderbolt 3 quite a bit, so you would be forgiven for assuming that Comet Lake features On-Chip Thunderbolt 3 support like Ice Lake does, but you would be wrong. Comet Lake does not come with any integrated support for Thunderbolt 3 so OEMs who want to ship laptops with Comet Lake and Thunderbolt 3 will have to opt for completely external solutions.  
Comet Lake vs Ice Lake- which is Lake Superior?  
Finally, let's talk about the differences between the two processor lines hiding under the same 10th Gen branding.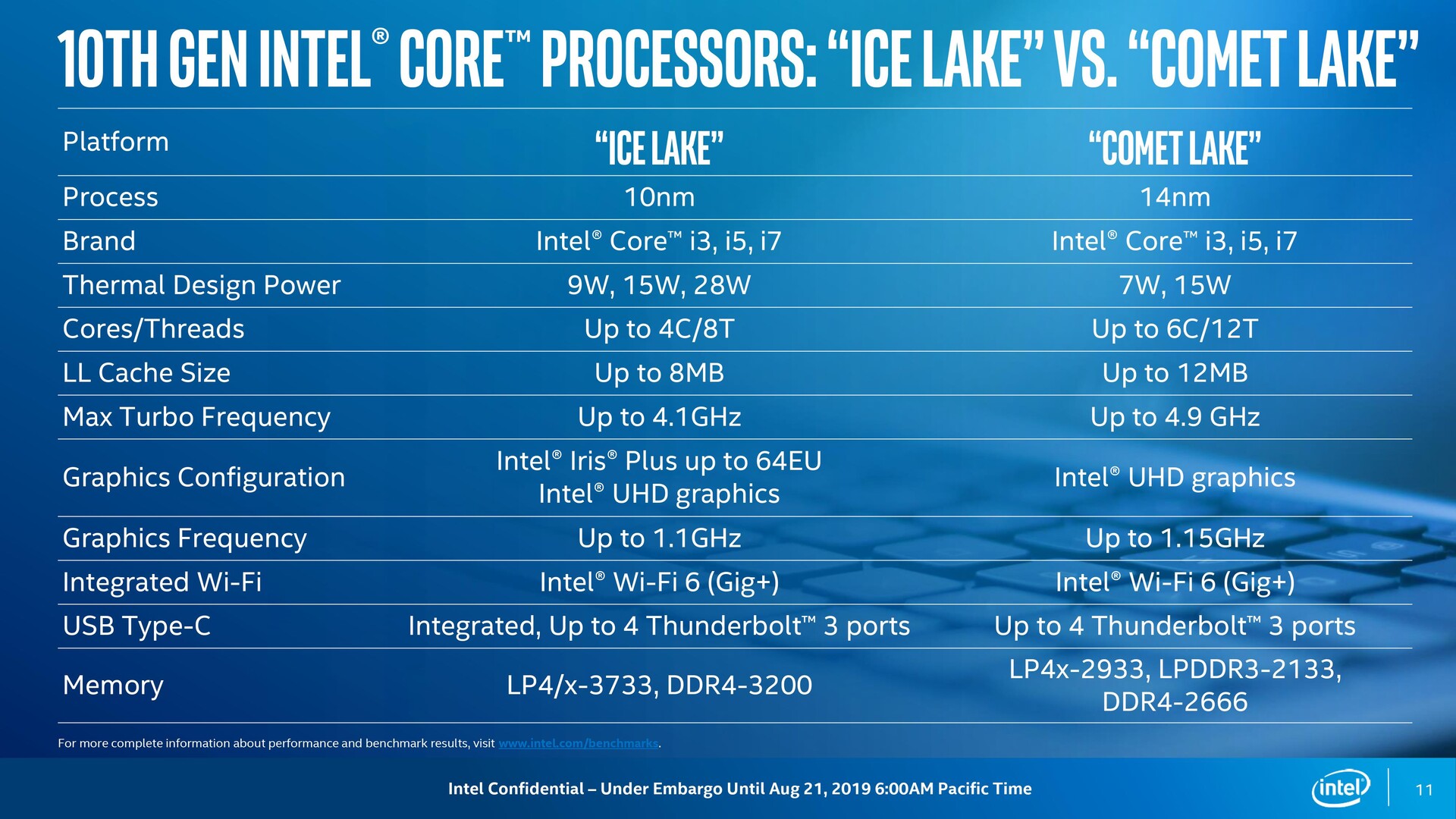 Memory Support 
Let's start from the bottom. Like we mentioned previously, Comet Lake-U features an upgraded memory controller enabling it to support LPDDR4X memory, which is a great addition. Compared to LPDDR3 and DDR4, LPDDR4X memory clocks higher and consumes less power, the perfect solution for OEMs who have been stuck with LPDDR3 memory for multiple years now. Not only that, greater capacities than 16 GB in dual channel configuration can make an appearance without the OEM having to opt for DDR4 memory- which means great power savings.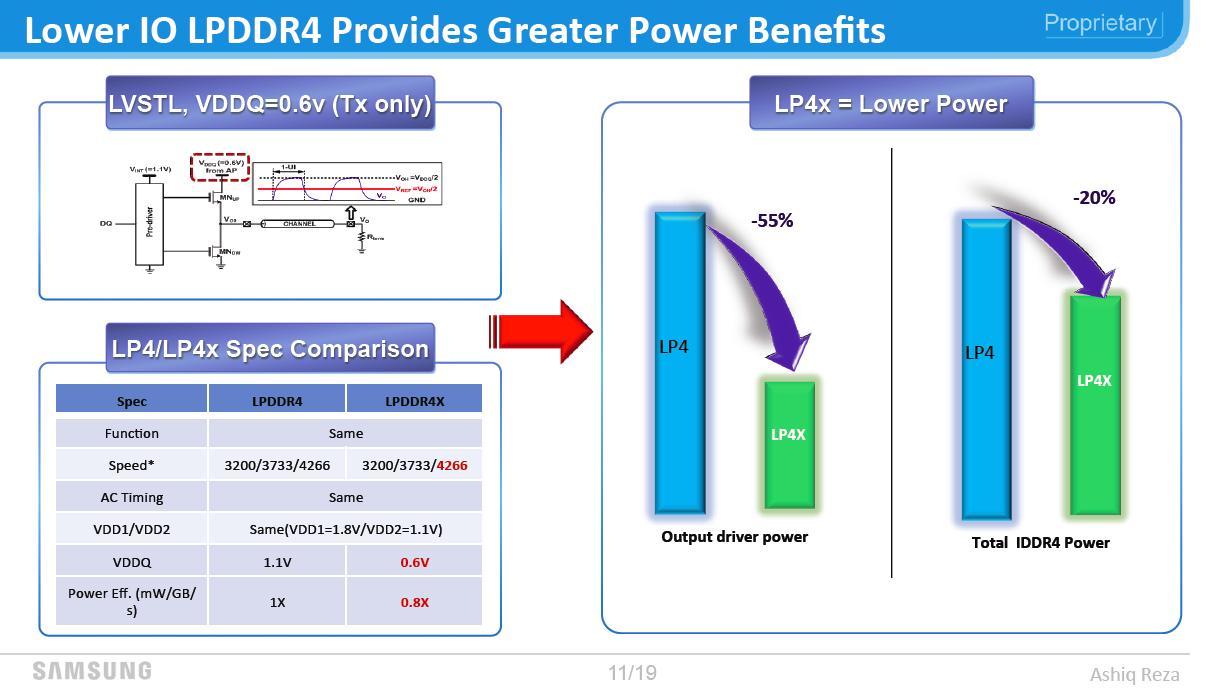 The only shortfall is that Comet Lake-U does not support memory nearly as fast as Ice Lake-U does, whereas the latter can go as fast as 3733 MT/s, the former can only do 2933 MT/s. This is a bit of a bummer, but at least Intel is no longer offering memory from the Jurassic Era in its more mainstream offerings. Ice Lake can make great use of that fast memory- especially because of the massive GPU it sports, which can use all the bandwidth it can get its integrated hands-on. This brings us to the difference in the graphics the two families feature.  
The GPU showdown  
Perhaps the biggest differentiator between Comet Lake and Ice Lake is the GPU they feature. Comet Lake features a 9.5 Gen GPU, which is essentially what Intel introduced in the Kaby Lake processors. These come with either 23 or 24 Execution Units. Ice Lake ups the ante quite a bit- there are up to 64 Execution Units of the newer Gen 11 architecture on offer. The Iris Plus branding will grace many Ice Lake-U and Y parts and hopefully, Iris Plus will be found in more than just obscenely priced Macs or Intel NUCs soon. The vast increase in Execution Units as well as the architectural improvements has Intel claiming radically improved performance as compared with Gen 9 graphics, as on Comet Lake, and competitiveness with AMDs Mobile APUs.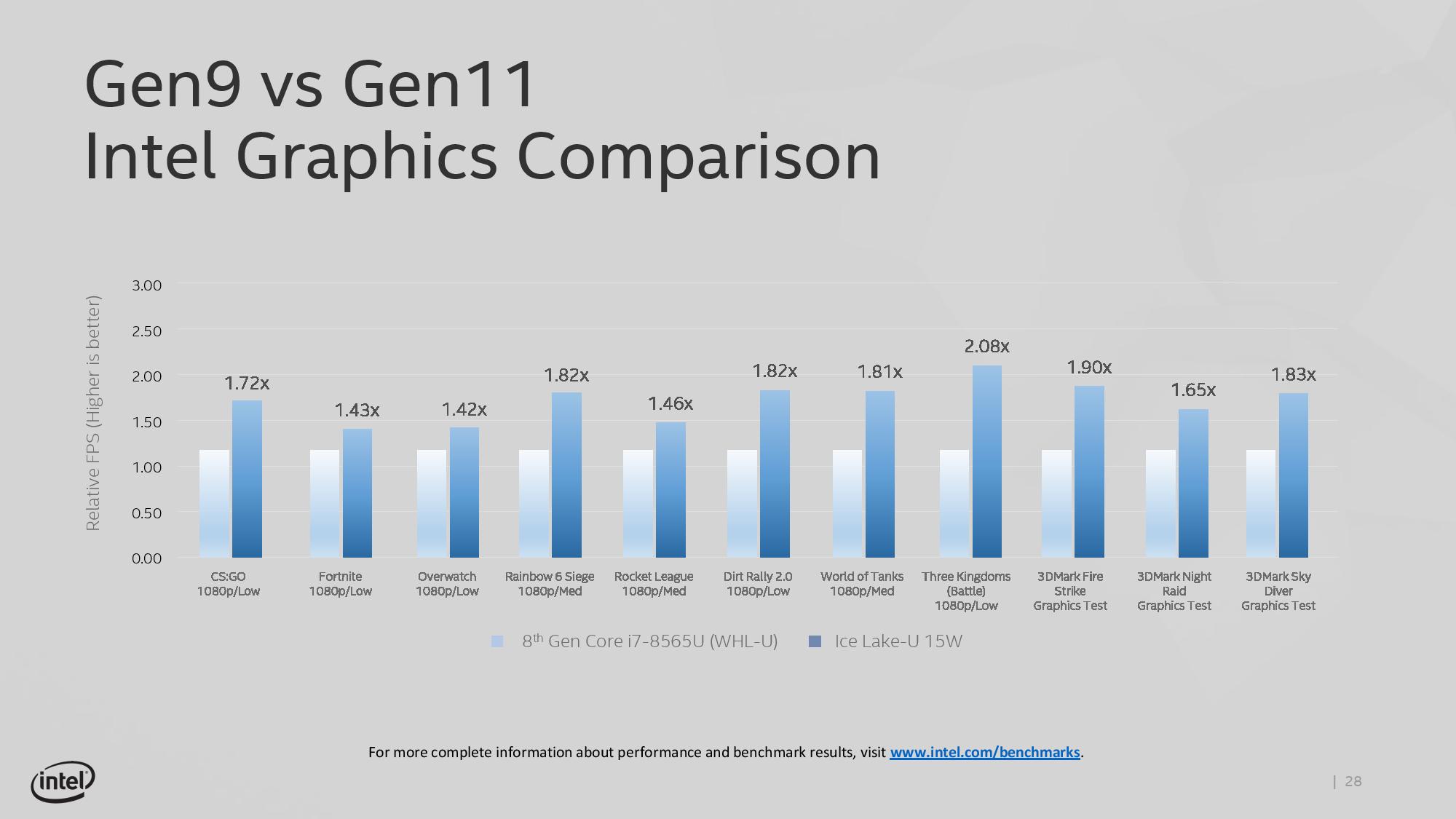 The salient fact is that Intel has managed to integrate much better and bigger GPUs in Ice Lake within similar TDP levels as Comet Lake. Of course, this is due to the smaller 10nm process node. Intel claims Ice Lake competes favorably with Radeon APUs too.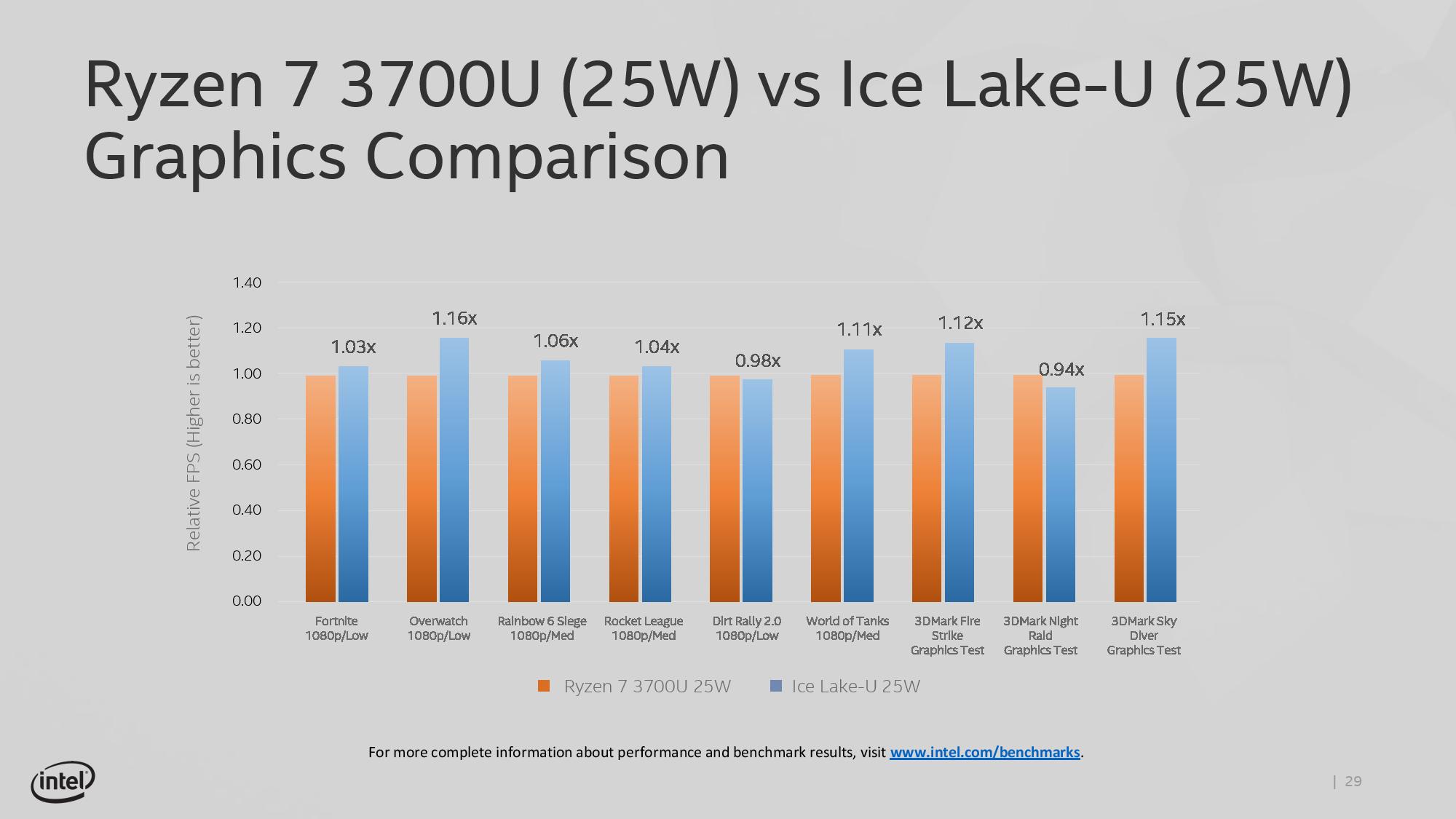 Some benchmarking by notebookcheck.net on a machine with the Core i7 – 1065G7, which features a 64 EU Gen11 GPU, bears out those claims as the 15W and 25W versions of the SKU either comfortably match the Vega 10 in the Ryzen 7 3700U or perform around 20% better. That is a much-needed improvement as Intel hasn't had an answer for AMD's mobile GPU performance, until now.  
So what do we have in the end? Ice Lake is much better at graphics-intensive tasks than Comet Lake, and that is one of the fulcrums around which Intel is differentiating the product lines as well. Even the Y series Ice Lake processors feature the upgraded Iris Plus graphics, which is a welcome move for ultra-portables and convertibles.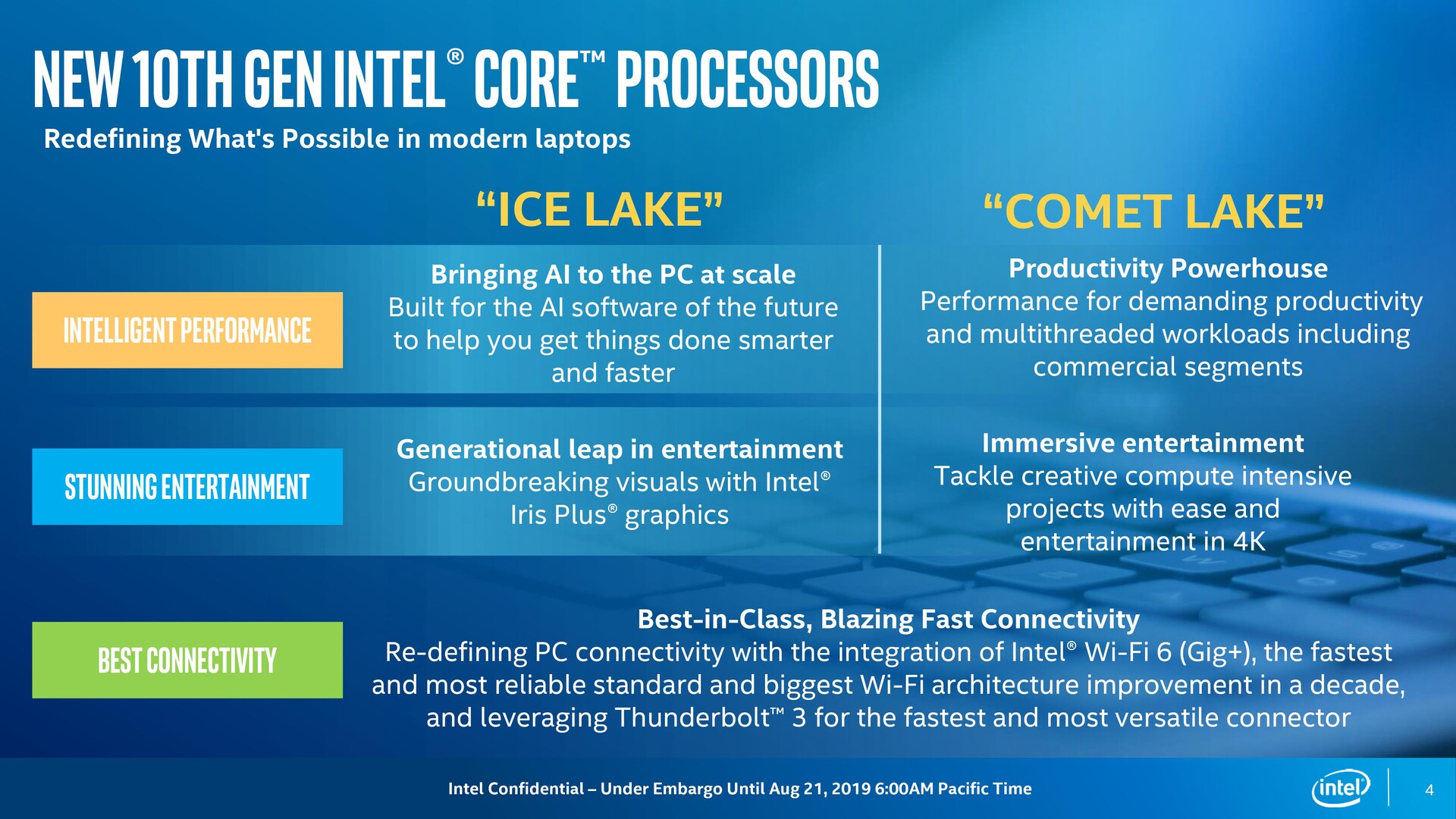 What about the CPU? 
Intel is advertising Ice Lake as the graphics and AI champion, and while the former is a good case as we have seen, it remains to be seen what the latter will manifest. Comet Lake is advertised as the processing workhorse and for good reason- Ice Lake does not bring radical improvements in the processing side. Intel claims an 18% IPC upgrade for Sunny Cove- the microarchitecture featured in Ice Lake- but the clocks are not very high right now. This is the architectural ouroboros Intel has been stuck with for some time- there are IPC improvements with the new architecture but the 14nm process is so mature and refined after 4 years of iteration that it's difficult to overcome its clock speed advantage. Nevertheless, even though benchmarks are a bit thin on the grounds as Ice lake machines are yet to show up in stores, benchmarks by Notebookcheck.net show that the 15W Core i7- 1065G7 will bring minimal raw CPU gains over its Whiskey Lake predecessor- the Core i7- 8565U. That's not very encouraging and that's the point- Ice Lake can give you great graphics improvements but not CPU improvements. Going up to the 25 W version of the same Ice Lake processor can net you performance in the same ballpark as the Coffee Lake-U Core i7- 8559-U processor, which is a rare processor found mainly in NUCs. Ice Lake performs similarly to Whiskey Lake, it's predecessor, but might provide small improvements in certain scenarios, such as higher TDPs or higher sustained boost clocks owing to the chassis design. Those are aspects of performance that can only be categorized once Ice Lake machines appear on the market and are intensively benchmarked.  
The result is that if you are looking for pure CPU improvements it's probably the Comet Lake you want to look at. Intel claims an improvement of up to 16% in comparison with previous Gen U processors for Comet Lake- but that is dubious as Intel's comparisons have been done with different TDPs. Only testing will determine what the real-world differences are. The top-end Hexacore variant is mighty interesting, but it remains to be seen what kind of sustained clocks we will see with that chip in the actual laptops. Across Ice Lake and Comet lake, we are not looking at radical improvements over the previous generation of processors in the CPU segment. Which class of CPUs between the two are better in general, as stated before, will be heavily dependent on the laptop designs and how high the processors can boost within the PL2 values OEMs set for their laptops. My bet would still be on Comet Lake edging Ice Lake out, but not by much.  
One Geekbench example pits the Core i7- 8665U, which is a Whiskey lake processor, against the Ice Lake i7-1065G7 and the results are quite interesting. The Whiskey Lake processor scores 5341 and 16485 in the single-core and multi-core tests respectively, whereas the Ice Lake processor scores 5234 and 17330 respectively. This Whiskey Lake processor boosts to 4.8 GHz which is quite close to the maximum turbo speed of 4.9 GHz found in Comet Lake-U CPUs. There are no architectural differences between Whiskey Lake and Comet Lake-U other than the memory controller and therefore, I expect Comet Lake-U processors to have the single-core and multi-core crown in the 10th Gen lineup. This is a bit of an odd situation, but Intel has been having trouble with the 10nm node for years, so its nothing surprising. However, keep in mind that benchmarks like Geekbench do not provide an idea of sustained performance, but only of short term performance. Depending on the design, its still possible that Ice Lake could perform better in multi-threaded workloads (other than the Hexacore processor) than Comet Lake-U processors if the sustained clocks are better – which is perhaps what happened in the benchmark I quote as an example as well.  
Ice Lake processors are going to go for premium rates, and so will the Hexacore Comet Lake processor, so the bulk of the market will probably rely on the medium range Comet lake processors. Intel states that higher TDP on Ice Lake parts should provide bigger GPU improvements than CPU improvements, but ironically, that's exactly the opposite of what Notebookcheck.net found in their benchmarks. This is still tentative, and it might be an issue related to premature GPU drivers, but it's still something to note.  
Quality of Life differences  
As already discussed, Ice Lake incorporates several QoL improvements such as Wi-Fi 6, Thunderbolt 3, Adaptix, and AI inferences, which enhances its value in direct comparison with last year's processors. Comet Lake-U incorporates Wi-Fi 6 and Adaptix, whereas Comet Lake-Y only incorporates Adaptix.  
Understanding the Naming Scheme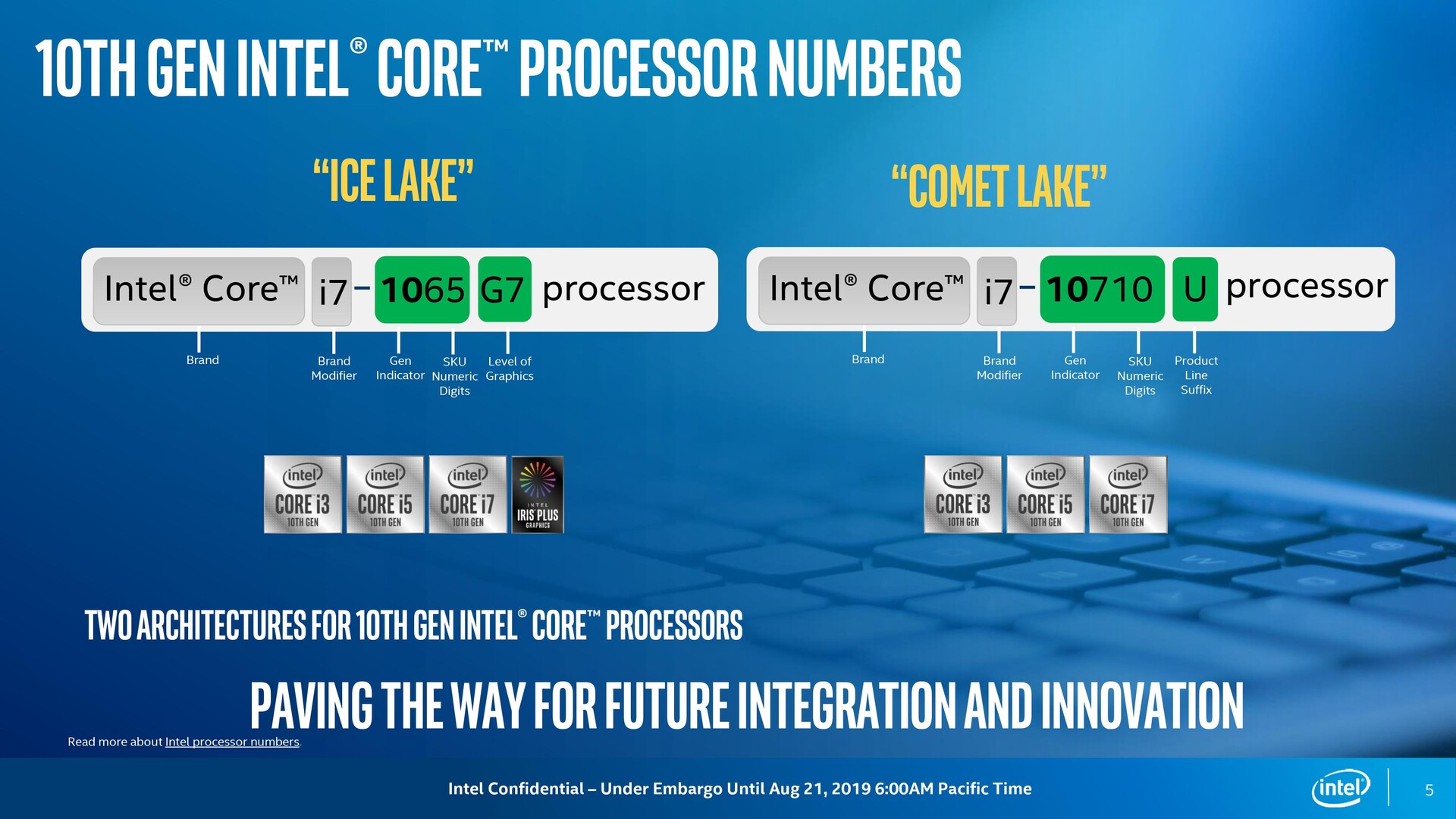 Since the 10th Gen family of processors features two different platforms – the nomenclature can get confusing and you don't want to accidentally purchase the wrong laptop. You can avoid such a disaster by familiarizing yourself with the naming scheme Intel is going with this generation.  
The Ice Lake family of products feature four-digit processor names after the processor brand, while the Comet Lake parts feature a five-digit name. Ice Lake parts also feature a suffix that shows the graphics level (G1, G4 or G7) whereas Comet Lake features the usual 'U' or 'Y' suffix.  
The Final Verdict 
Comet Lake systems should begin shipping soon, and it appears the Hexacore systems might ship in October or Q4 2019. Ice Lake should begin shipping in September, but as of now, only one Ice Lake laptop is on sale – the Dell XPS 13 2-in-1. That's the same laptop from which the geekbench benchmarks above have been drawn.  
As of now, the picture on the CPU side of things isn't completely clear but certain conclusions can already be drawn- Ice Lake offers similar performance to competing parts from the previous generation and presumably, to Comet Lake parts – depending on how Comet Lake fares in real-world tests and scenarios. The wise money appears to be on the bet that Comet Lake can get you more CPU performance pound for pound, especially at the top end, where the best Quad-core Ice Lake CPU, the Core I7-1068G7 is no match for the Hexacore Core i7- 10710U. This is a space to watch as the machines start turning up in stores.  
For graphics workloads, the Ice Lake parts are far better than Comet Lake. If GPU horsepower is important to you- An Ice Lake Laptop is what you want, no questions asked. They compete favorably with AMD's present offerings and vastly trounce the aged Intel UHD offerings in Comet Lake.